Grant's Cause is a non-profit organization,
inspired by Grant.
Grant's family started a 5k fundraiser that is registered in Missouri. They started the fundraiser prior to Grant's birth, to raise money for medical funds. They have been able to continue the mission of helping young children and families with medical expenses. Sponsors, donors, and participants have helped us reach our 8th year to give back to families with members of SPINA BIFIDA. We help with expenses for therapies, medical supplies, equipment and more!
Meet Grant!

He is happy, fun-loving, mischievous, silly and strong! Grant lives with Spina Bifida. He's the young man that inspired our family/community to spread awareness and support other children! 
Please follow Grant's story every day on Facebook at :  https://www.facebook.com/grantscause
---
Spina Bifida Details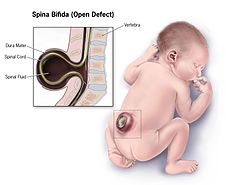 Grants type is Myelomeningocele, it affects the L3 area of his spine.  Spina bifida (Latin: "split spine") is a developmental congenital disorder.  This disorder is caused by incomplete closing of the embryonic neural tube. Some vertebrae overlying the spinal cord are not fully formed and remain unfused & open.  To learn more please go here – http://www.webmd.com/parenting/baby/tc/spina-bifida-topic-overview 
---
Our Story
At 19 weeks pregnant,  Steve & Kalyn learned their third son (baby Grant) had Spina Bifida. They quickly had to do some research and make some decisions on how to begin treatment.  Steve & Kalyn agreed that in-utero surgery to close Grant's spine was the best option for their unborn son.  This surgery took them away from their other two young boys to travel out of state to the  Houston Medical Center. The surgery was performed at 26 weeks gestation.
After months of bed rest, Kalyn successfully delivered Grant nearly a month premature on July 25, 2013.  From his very beginning, Grant has been blessed with his extremely loving and supportive family, friends, and his whole team of talented doctors and nurses.
Grant is now a 8 year-old sweet boy full of love and fun, with two older brothers that adore him. Grant is continuing to hit milestones and is growing every day! He has undergone several leg casting treatments and has worn braces for his corrected club feet.  He sees the neurologist, physical therapist, occupational, speech therapists, as well a urologist on a regular basis.
While Grant continues to show the world how strong he is his family and friends still continue to ask for your prayers and support.  As Grant's journey continues, he will need several medical evaluations and therapies throughout the years.
Your emotional and financial support is so important to his family and many more. His family and friends are so happy that they are able to "pay it forward" to other families with children with Spina Bifida.  The non-profit continues to grow and we are blessed that helping these families is possible with Grant's name in mind.
"Thank you all again for the love and support!", Steve, Kalyn, Colin & Andrew & Grant.
---